I was tagged for the HARRY POTTER: you're not good enough tag by Jayati. This seems like a fun way to re-visit the wizarding world, so thanks a lot for tagging me 💖
RULES:
Write 30 character names on pieces of paper.
Put them in a jar/mug/cup.
Randomly choose two pieces of paper for every question. In each of the 15 questions, you have to decide which of the two characters fits the question and which one is not good enough.
When I saw how Jayati did it, I had to borrow her idea. So, I did not actually write names on a paper. Instead I just stuck 30 names in a randomizer and then went in the order they showed up in.
1. YOU ONLY HAVE ONE MORE SPOT ON YOUR SPELLING BEE TEAM. WHO DO YOU PICK TO COMPLETE YOUR TEAM?
Sirius Black versus Hermione Granger; LOL sorry Sirius, I think I'd have to go with Miss Granger for this one!
2. BOTH CHARACTERS WANT TO KILL YOU. WHICH ONE WOULD YOU KILL FIRST SO YOU HAVE A BETTER CHANCE OF SURVIVING?
Rolanda Hooch versus Fred Weasley; I'd probably have to kill Rolanda first. Nothing personal, but she's a professor. And even though the Weasley twins are skilled, they're not exactly fear inspiring.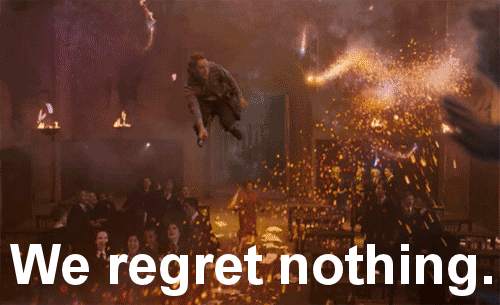 3. YOU'RE ON THE BACHELOR/BACHELORETTE AND YOU'RE DOWN TO THESE TWO CHARACTERS. WHICH ONE ARE YOU GOING TO GIVE YOUR ROSE TO?
Professor McGonagall versus Fleur Delacour; Sorry, McGonagall… but this rose goes to 🌹Fleur Delacour🌹
4. YOU'VE BEEN CHOSEN FOR THE HUNGER GAMES. WHO WOULD MOST LIKELY VOLUNTEER IN YOUR PLACE?
Cho Chang versus Bellatrix Lestrange; I'd have to choose Bellatrix Lestrange. Not because she's an evil person, which she is. But because she's the only of the two that would have a change to survive. And also because I'd selfishly enjoy the mayhem she'd spread.
5. YOU'RE STRANDED ON AN ISLAND WITH AN ACTIVE VOLCANO. WHICH CHARACTER WOULD YOU THROW INTO A VOLCANO AS A SACRIFICE?
Neville Longbottom versus George Weasley; Well this is not fair! not even a little bit. I mean, I can't choose between them. If I had to, I guess I would choose George Weasley. Because if there's one character that doesn't deserve anymore pain, it's Neville.
6. YOU'RE THE NEXT DC/MARVEL SUPERHERO (WITH YOUR OWN T.V. SHOW, OF COURSE). WHO IS YOUR SIDEKICK?
Ron versus Filch; hahaha I'm tempted to say Filch, just because I'd be able to boss him around. But I'll instead go with Ron!
7. YOU'RE A MANAGER OF AN AVOCADO-ADMIRING COMPANY. WHO WOULD YOU FIRE FOR LACK OF COMMUNICATION SKILLS?
Viktor Krum versus Dudley Dursley; right seriously, who came up with this. I mean I love avocado… but there's still a long way to managing an avocado-admiring company. LOL. Anyway, I'd probably ending up firing Dudley Dursley. Throughout the original 7 Harry Potter books, he never seemed like the best conversationalist or communicator.
8. YOU'VE JUST FINISHED A BOOK IN WHICH YOUR FAVORITE CHARACTER DIES. WHICH CHARACTER IS MOST LIKELY TO COMFORT YOU?
Cedric Diggory versus Percy Weasley; Does this one really need answering? Though, those two have many traits in common, I think Cedric would be the best choice.
9. UGH, IT'S HIGH SCHOOL. WHO WOULD MOST LIKELY BE PART OF THE POPULAR CLIQUE?
Goyle versus Luna Lovegood; hahahaahah none of them. Seriously, even for arguments sake I can't pick between them.
10. THE DAY HAS ARRIVED – YOU'RE FINALLY A YEAR OLDER! WHO WOULD HAVE THE NERVE TO FORGET YOUR BIRTHDAY?
Voldemort versus Lucius Malfoy; in all honesty, I think they'd both be forgetting and ignoring my birthday. Something tells me they'd both be busy planning sinister things.
11. YOU'VE JUST FOUND AN UPCOMING BOOKTUBE STAR! WHO WOULD IT MOST LIKELY BE?
Umbridge versus Molly Weasley; God I hope it's Umbridge! I would totally follow her channel. If nothing else, for hearing her telling authors to stop writing bad books, lol.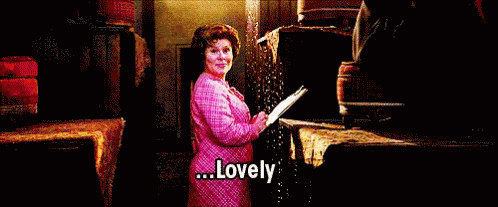 12. SLEEPOVER TIME! UNFORTUNATELY, YOU CAN ONLY INVITE ONE PERSON. WHO WOULD YOU INVITE?
Moaning Myrtle versus Parvati Patil; anyone but Moaning Myrtle. I'd almost consider the Malfoy's before her. So this invite goes to Parvati.
13. BAM, YOU'RE PREGNANT. WHO IS THE FATHER/MOTHER?
Dumbledore versus Snape; talk about a loose loose situation. Again, if I must choose… I'll go with Snape.
14. YOU'VE JUST WRITTEN A SUPER IMPORTANT TEXT. WHO WOULD SEE IT, BUT NOT REPLY?
Remus versus Draco; well in all honesty, I don't think any Wizards check texts. So, don't think they'd even see it. I spose for arguments sake I'd say Remus, considering that he's dead and all.
15. YOU'VE JUST WOKEN UP AND IT'S TIME FOR BREAKFAST. YOUR MUM'S BEEN REPLACED BY… WHO?!
Hagrid versus Ginny; Ginny. Ginny all day long. Hagrid's cooking reviews aren't good enough for me to risk it.
That's it for me! This was a lot of fun, but I don't know who'd be interested in doing it, so I'll only tag a few:
Twitter  ♥  Goodreads  ♥ Pinterest
Cedric Diggory
Fred Weasley
George Weasley
Hagrid
Snape
McGonagall
Hedwig
Hermione
Ron
Ginny
Remus
Dudley
Voldemort
Neville Longbottom
Luna
Percey Weasley
Molly Weasley
Goyle
Malfoy
Parvati Patil
Viktor
Dumbledore
Madam Hooch
Sirius Black
Bellatrix Lestrange
Cho Chang
Filch
Fleur Delacour
Moaning Myrtle
Umbridge