Hi y'all!
Here we go again, another week gone and done. And let me tell you, this have been quite the week for me!
But before we get into the personal stuff, let's take a look at my week in reviews:
Aaaand tags/awards:
Other posts:
As you can see, I've tried to spread my posts this week so it's not just reviews. When I started this book blog 3 months ago, I thought all I wanted to do was reviews. As the time has passed, I've come to realise I also want you to know me, me to know you – and to write about things that seem important to me. Like my post about reviews! This was something I'd wondered about for some time, and what better way to share it, than my very own book blog!
On top of that, I really do want us all to know each other better, connect with more bloggers, and just share this insane journey we're all on. Because no matter what niche we blog in, the journey we take is not the same one, and I love seeing what fellow bloggers are up to. So far there haven't been a lot of buzz or feedback on my #FF blog edition posts. But hey, Rome was not build in one day. And even if just a few people see a post and think "I'm so glad I found this one", then it's worth it for me to spend a few hours putting it all together.
---

So what am I reading now? Well I can tell you this much, I FINALLY finished Windcatcher (took me long enough!), and the review is coming to you on Wednesday. Right now I'm reading A Holiday to Remember by Susanne O'Leary. Only after getting it granted via Netgalley did I realise, that this is the second book in a series. LOL. This explains so much, as to why I'm having a hard time keeping up with our Thelma & Louise inspired BFF's. So far I'm not impressed, but maybe the last 40% will change my mind!
So, what's next on the reading horizon? Well, I honestly don't know. I'm kind of having an involuntarily reading hiatus I think. But I'll still be posting as much as I can! And with not posting 1-2 reviews daily, I should be able to spread my stuff out enough, to have a few going each week.
---
My personal life!
So, this week have actually been filled with ups – and I'm loving it! Do you remember a few weeks back, I was sharing and telling you about how our cat, Marley, all of a sudden went psycho? If not, you can read about it here: Weekly update & a psycho cat in our midst – week 29 & Weekly update – week 30. After the tragic loss of our beautiful male cat, Diaz (you can read about it here, but I don't want to talk about it), Marley has went back to normal. I.e. no attacks or weird behaviour. AT ALL. Since Diaz had a problem with his heart, it is possible that she picked up on that, which could have made her change her behaviour. It is of course also possible, that all the Feliway stuff helped. Or maybe she's no longer being bitten by a radioactive spider. Fact is that we'll probably never find out what the exact reason was. And I'm okay with that, as long as my baby is fine. So, I was preparing this post Friday evening, and Saturday my boyfriend was fooling around, throwing and catching a bolt. He accidentally dropped it, and somehow that, combined with him wearing his green trainers, sent her off again. Well, not full blown attack mode, but she hissed and got fat tail. Do I need to tell you, that those trainers are now banned from being worn inside the house!
On a less furry related topic (because I do shave my legs), I want to talk about me for a minute. If you follow my blog, you'll know I recently started a new job. I'm not working for the online gambling company called "tombola", as a team manager for their Danish team based here in the UK. This week I met my manager, who works and lives in Copenhagen. And she had this amazing idea, to ship me and a trainer to Denmark next week, on the company's dime.
So now I get to visit my home country, whilst being paid for it! I'm SO excited about this! Unfortunately, I won't have time to see my family because I'll be working in Copenhagen (on the island called Sjaelland) and my family lives on the island called Jutland. But I do get to stock up on lip balm and liquorice. Yes, my priorities are messed up. But the excitement is real!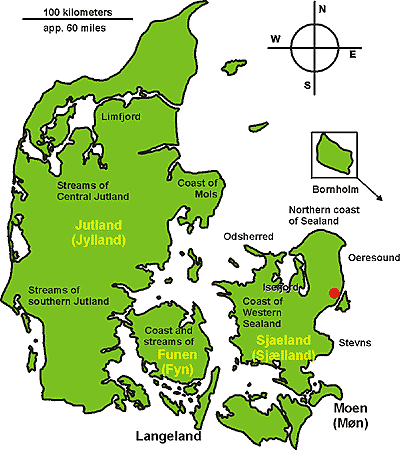 The red dot on Sjaeland, is where I'll be working. And my family lives almost right in the middle of Jutland. So, basically the commute would be too much when I'm working 9-5! However, as I'll be travelling with our chat trainer, Lucy, who's never been to Denmark, I'm sure it will all be extremely exciting. And I can't wait to experience it all with her.
From a reading and blogging point of view this means, that I've prepared and scheduled almost all my posts for next week. And I probably won't get much reading done. Also, if I'm slow at replying to comments/emails/smoke signals – or don't visit your blog for the next week, I'm not really gone. I'm still here. I'm just busy adulting!
---
That's it from me for this week, folks!
---
How's your week been? Have you done anything exciting you'd like to share? Read anything really good? Or maybe just been chilling and hiding from the real world? I'd love to hear about it!
Follow me:
♥♥ Twitter ♥♥ Goodreads ♥♥ Pinterest ♥♥