My rating: ❤❤ of 5!
I received a free copy through Netgalley, in exchange for my honest review
---
Have you ever wondered what the 50 shades of Grey would be like, if they happened in a span of 24-48 hours? No? Yeah, neither have I. But Jenna Fox answers the question that I can't imagine anyone asked, in her "Everything He Wants: Obedience" novella.
---
The Blurb:
Sloane Rothchild, billionaire bachelor, is an older man with a penchant for punishments.
**Contains spankings, bondage, submission/domination themes**

Me. He'd chosen me.

Not a rich girl.

Or a pretty girl.

But me…

A girl with a bleak future.

A girl with a tragic past.

Sloane Rothchild, New York City's most eligible billionaire bachelor, could've picked a beautiful and educated girl to be his new assistant. But he wanted me. And all I had to do was show him I could obey.

Be a good girl.

Be his dirty girl.

But if I didn't obey…

I'd get the whip.

Spankings.

Chains…

Oh, why did the dirty and forbidden things he wanted to do to me send tingles in all the right places?

So, I fell hard and fast for him.

I bared him my body.

My heart.

My soul.

But there was another irresistible side of Mr. Rothchild–a side he didn't warn me about.

A side I had to find out on my own…

His other half. His dark, tempting and mysterious twin, Cain.

Cain was like me–scarred and damaged. We immediately connected. He understood my needs. But after all, shouldn't my heart belong to the man who'd given me the opportunity of a life time?

Each brother had taken a piece of me. One man had torn my heart out, and the other had used my body. But only one truly owned me. And only one man had swept me up in a current of lust and need…

Had tangled me in his web of lies and deceit.

Nobody told me there would be danger.

Nobody told me I might fear for my life.
And here's the thing… that's pretty much the entire book, so if you've read that, you don't actually need to read the book. To me a blurb is to make the reader interested, not to give away the entire story. Because if you do that, even the 99c Amazon charges for the book, is expensive.
On top of that, this blurb oversells the book. The last part:
Each brother had taken a piece of me. One man had torn my heart out, and the other had used my body. But only one truly owned me. And only one man had swept me up in a current of lust and need…

Had tangled me in his web of lies and deceit.

Nobody told me there would be danger.

Nobody told me I might fear for my life.
That's not actually part of the book – actually, the book ends with the readers having a suspicion that Cain had sex with Megan, but it is not confirmed in the book.
I honestly think this is the first time I've felt like I wasted my time reading the book, and should instead just have stuck to the blurb. So, just to make sure it's not me that's spend years of my life with a misunderstood understanding of the concept, I Wiki'd what it is:
A blurb is a short promotional piece accompanying a creative work. It may be written by the author or publisher or quote praise from others. Blurbs were originally printed on the back or rear dust-jacket of a book, and are now found on home video cases, web portals, and news websites. A blurb may introduce a newspaper or magazine feature story.
It would seem my understanding of the word was spot on and so, my first piece of advise to Jenna Fox is, to read the meaning of it. My second advise is:  WHY WOULD YOU BUY THE COW IF YOU CAN GET THE MILK FOR FREE – or rather, why would anyone buy the book when the blurb gives it all away?
Right enough ranting about the blurb!
---
As stated in the beginning of my post, this book is like a rushed and weird fan fiction of 50 Shades of Grey.
We have the alpha millionaire/billionaire/gazillionaire: Sloane Rothchild
We have the young, naive nobody: Megan Walters
The kind of psychotic villain: Cain Rothchild
Sloane is an alpha male, but he has not earned the capital "a" because despite everything, he's really weak. Anyway, he have some kind of weird obsession with Megan and decides he wants her. So, he does what any normal seriously disturbed suitor would do, he offers her the job and wage of a lifetime, if only she'll strip and masturbate in front of him, in her office.
Megan, well do you remember the episode of How I Met Your Mother, where we met Katy Perry? The "oh honey" episode? Well, that's Megan in a nutshell.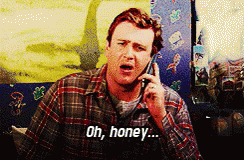 It's like Jenna is working overtime in trying to make Megan demure, modest and likeable. Yet, for me she comes across as stupid, obnoxious and crazy. Case in point; the first night Megan spends with Sloane, she opens up about how her sister died in a car accident and says:
I turned on my side, facing him. "I should've been the one who died, not Cara. She was so smart and pretty."
So, does that mean that less intelligent and ugly people deserve to die? That's quite the message and frankly, if I was Sloane, I would be running so fast there'd be a cartoon shaped hole in the door. Crazy is what crazy says… and wow. Just wow!
But Megan does seem to be a little on the weirder side of normal. After spending 24 hours as Sloane's assistant / sex doll she's hooked:
I would die without his touch.
On the second (or maybe it's third) evening as Sloane's assistant, Megan attends a business meeting with him. When there's problems with the payment, Sloane steps away to take care of it, and Megan is left at the table with the clients.
The three men looked at each other, then at me. Did they expect me to say something? Sorry Kaletta, we don't have enough money to pay for dinner, but we want you to go into a billion-dollar deal with us.
Shit, I was just as embarrassed as Sloane. Hiding my unsteady hands under the table, I scrambled to think of something good to talk about.
Before the dinner started, Sloane did say to Megan that she didn't have to say anything, just sit there and be pretty. However, I took that as she didn't have to try and sell or impress, but just make polite small-talk and leave the big stuff to him. I think if I ever need to hire an assistant, I'll save this as one of my interview questions and ask how a potential candidate would handle that. Because even if they don't need to be able to make a sales pitch, I would expect them to be able to function. Obviously, that's too much for poor Megan – so it's a good thing she's only assistant to the CEO of a big company, and not me.
I honestly don't know if I'll be reading the second book. I might at some point, but for now I don't see any point.
Have you read the book? Or is it something you'd be reading? Comment and let me know.
Follow me: