My rating: ❤❤❤❤❤ of 5!
I was lucky enough to BETA read this book, and received an advanced copy
---
Have you ever wondered what would happen if your dreams did come true? If the guy you've been in love with for years and years suddenly realises he wants you too, would it be the happiest day of your life? Or would you be too scared to believe in your luck? Would you dare to take the leap of faith?
Ever since he was a kid Scott have dreamed of his brother's (Ape) best friend, Marshall Donavan. But even though Marshall at times seems like Scott's Knight in shiny Armor, he knows it can never be. Marshall is straight. He likes girls and would never look at his best friend's little brother that way. As time passes the inevitable happens, the boys part and start their individual futures with college, boarding school and then careers. Scott moves to L.A. in the hopes of making it as a song writer, while Ape and Marshall moves to New York and launch a successful tech company. Even though, Scott and Marshall don't have any contact, Scottie is still dreaming of Marshall and the day he saved him from getting his geeky arse kicked, the day he told him to never change. His exact words: just be you.
In present day Marshall has just gotten engaged and so, when Scott gets the opportunity to submit a song for a movie, he writes a heartfelt goodbye letter in his journal where he says goodbye to the dream of Marshall. Scott's song makes it big, so big in fact that he's nominated for, and wins, a Grammy. His "thank you" speech is just about the most beautiful speech I've ever been so lucky to read. It shows a lot about this character; his personality, family relations, goals and dreams.
Due to a twist of faith and unhappy breakups, both Scott and Marshall need to get away from everything for a week or so. And it turns out that the perfect getaway place to lay low, is a cabin owned by the Cohen family. Neither of them knows each other are there, so when Marshall opens the door, the last thing he expects is to see Scott who he hasn't seen for eight years.
---
This gay Romance story swallowed me whole and put me through every imaginable feeling. I was ugly crying. I was laughing. I felt my heart break into a million pieces and be put back together. In short; I was with Scott and Marshall every step of the way and I loved their story so much.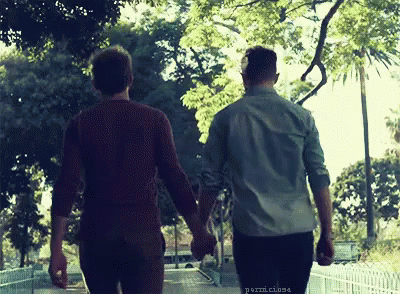 I usually don't like to compare authors, because every voice and message is unique. However, this reminded me so much of Song of Achilles. "Just Be You" has nothing to do with mythology or anything like that. No, it's the relationship between Scott and Marshall that reminds me of Patroclus and Achilles. Obviously, SoA is different on so many levels, but the pureness of the relationship between the main characters in this book was, in my humble opinion, just as beautiful and well written.
Personally, I love the attention Ms. Parker gives to all her characters – main and secondary characters alike. And I especially enjoy that her development of said characters doesn't mean they change personality, she's awesome at helping them overcome their fears and/or shortcomings in one way or the other.
Oh, and Ms. Parker was so kind as to give my blog a shout out in her book:
How freaking awesome and generous is that? ❤
Is this something you would want to read? Have you read anything like it? Comment and let me know.
Follow me: